Welcome to Our Private Blog for Our Cask Ownership Program Subscribers
We understand that the world of whisky cask ownership is confusing. Our cask owners have to do lots of research before buying their first cask of whisky.
We appreciate our current cask owners for doing all the reading. In a world where there are more scammers than sincere cask brokers, we want our clients to know that we are a legal entity selling whisky casks. Spirits Castle also hopes that our clients know what they want to achieve, so that we can work together with them to reach the end goals.
In view of the feedback we got, we decided to put up a blog page specially for our cask owners and potential clients to read up and understand the various important things that they must know before buying.
What to Expect from this Wee Blog
This blog will share the following:
– What to look out for when doing due diligence
– What distilleries you should look out for if you are doing an investment
– Distilleries Deep-dives
– Any other important documents related to the purchase of a whisky cask
Our aim is to help our clients gain insights into the whisky cask world. Cask ownership is a big step and we hope that our nuggets of information will assist our clients in deciding if the program is suitable for them.
Who Can Buy A Cask?
Our cask ownership program is not limited to Singapore residents. Keen buyers from Southeast Asia are welcome to join our program and become a cask owner too. If you are staying in other parts of Asia, feel free to check with us and we will direct you to our partners in the region.
We are open to questions and enquires. Please engage with our conversations as we move along this journey. Drop us an email at sales@spiritscastle.sg and we'll strive to reply as quickly as possible!
Whisky Cask Ownership Related Blogs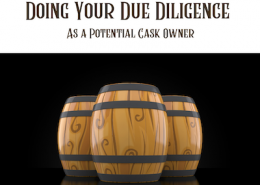 https://spiritscastle.sg/wp-content/uploads/2021/03/Whisky-Cask-Blog-Post-Pic.png
335
400
Zerlina Zhuang
https://spiritscastle.sg/wp-content/uploads/2018/07/spirits_castle_header_logo_2-300x138.png
Zerlina Zhuang
2021-03-18 17:25:53
2021-03-30 11:46:44
Doing Your Due Diligence – As a Potential Cask Owner