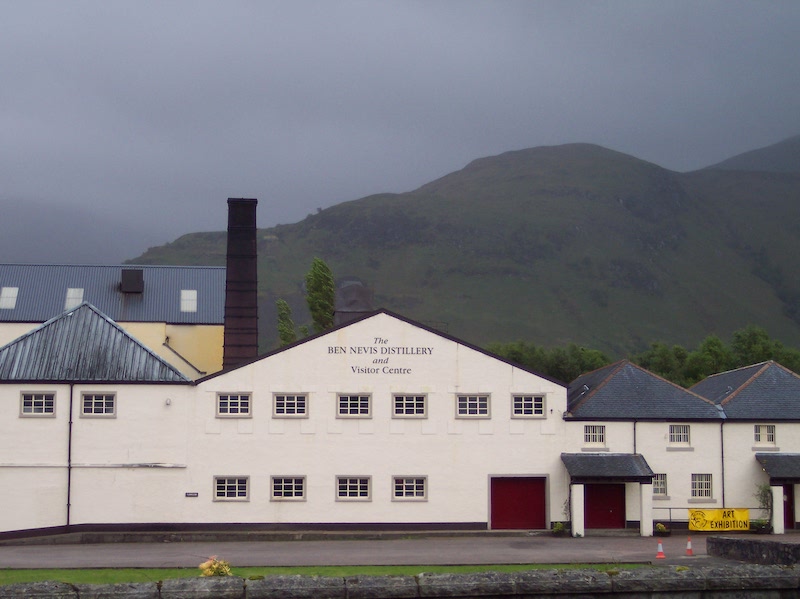 Ben Nevis single malt whisky is so popular that almost every independent bottler has one or more bottling under their belts. It is also a source of great interest for cask owners. Recently, news of regulating Japanese whiskies have also put Ben Nevis back into the limelight – for the wrong reasons.
As there are a lot of interest around Ben Nevis, we wanted to give all our cask owners a better understanding of the distillery. Let us head over to Fort William (in our imagination, unfortunately) and check Ben Nevis out!
Location of Distillery
Ben Nevis Distillery sits at the base of the highest mountain in the British Isles. The mountain, Ben Nevis, rises 1345m above sea level. The distillery is at Lochy Bridge, Fort William, and in fact, can be seen from the road if you drive across town. As a coastal distillery in the Western Highlands, Ben Nevis draws water from the Allt a'Mhulinn.
History of Ben Nevis Distillery
The story started in 1825, when "Long" John Macdonald took out a license for Ben Nevis Distillery. He selected the site on the outskirts of Fort William, close to the mountain, Ben Nevis. His son, Donald Peter Macdonald, took up the reins after his death in 1856 and built a successful business. By the end of the 19th century, Long John's Dew of Ben Nevis was a popular single malt brand in the fashionable world of blended Scotch whisky. Peter built a second distillery named "Nevis" during the boom period of their whisky brand. It ran in tandem with the original unit and both distilleries employed over 200 people in the city.
However, the heydays passed and Nevis closed down in 1908. Peter sold the Long John brand name to Seager Evans in a bit to survive during those dark days. Ben Nevis operated intermittently until 1941, when Joseph Hobbs (a Canadian entrepreneur and former bootlegger) bought the distillery. He sold off the Nevis site to Associated Scottish Distilleries and rebuilt Ben Nevis.
Hobbs restarted production only in 1955 when he installed a Coffey still in the distillery. He also started blending his malt and grain new make together before maturing them. These malt and grain casks are now treasures from Ben Nevis Distillery, a legacy that Hobbs left behind.
The distillery mothballed in 1978 and Hobbs sold it to Long John International, the whisky division of Whitbread (brewer). After much needed refurbishment, production restarted in 1981 under the new owner. Business resumed and the distillery began to sell malt and grain whiskies to Japanese distiller, Nikka. By 1989, Whitbread sold the distillery to Nikka, where it remains to this day.
Whisky from Ben Nevis Distillery
Ben Nevis is known for having much of its liquids shipped off to Japan. However, it does have its own bottling. Under the blends, the Dew of Ben Nevis and Macdonalds of Glencoe are popular (but perhaps not so in Singapore). The single malt bottlings, which are elusive, sports a 10-year old and a 21-year old. There are also other limited edition bottlings such as the cask strength 10 Years old batches. If you remember the malt and grain casks that Hobbs left behind, these are released as high age bottlings such as the "Blended At Birth" 40 Years Old.
The strength of Ben Nevis bottlings comes from the single cask market, where many independent bottlers put up excellent Ben Nevis expressions. Some of the most delicious bottlings come from the 1995 and 1996 distillates (over 20 years old), and the younger bottlings tend to come from the 2011 and 2014 distillates. Ben Nevis distillate is rich and deep. The strong characteristics give the whisky an excellent base for maturation in both bourbon and sherry casks.
Ben Nevis in bourbon casks often sports rich fruits, sweet vanilla and sometimes, just a hint of coconut. It also has what a lot of people called the "Ben Nevis funk" – an extra layer of deliciousness that is often unexplainable. On the other hand, Ben Nevis in sherry casks are rich, with dark fruits, stewed fruits and a chewy texture. It also sports the "Ben Nevis funk". Whisky drinkers across the world fell in love with Ben Nevis for many reasons, but most of all, they fall in love with the richness of the spirit character.
You can find peated Ben Nevis bottlings too. While they may not be widely available, you do find some floating in the market if you look hard enough.
Production at Ben Nevis Distillery
Ben Nevis Distillery has a capacity of 1.5 million litres per annum. Fermentation time takes at least 48 hours and it's always longer over the weekends. It uses stainless steel lauter mash tun, 2 copper wash stills and 2 copper spirits stills. They source malt barley from various companies, and occasionally will buy peated malt at 30-35ppm. Their heat source is steam.
The distillery owns 5 dunnage and 1 racked warehouses. They mature their whiskies on site. Their new make comes off the spirit still at 70% abv and they casked the whiskies at around 63.4 to 63.5% abv, as per industry standard.
The Future of Ben Nevis Distillery
We see a bright future for Ben Nevis Distillery even though it does not put out a lot of whiskies for its core range. The fact that you don't get many Ben Nevis whiskies as its core range makes the whisky desirable to many fans and independent bottlers alike. While the Japanese whisky regulation may dampen some of the demand for its distillate from Japan, we doubt that the distillery will suddenly increase its output for a core range. More than ever, we see Ben Nevis Distillery taking on a different approach, selling its young casks to whisky brokers who will then, sell them on to whisky cask owners. As the supply continues to be limited to specific groups of people within the industry, we believe that demand for the whisky will continue to be strong.
Whisky Cask Ownership
If you are keen to explore Ben Nevis casks, please contact us at sales@spiritscastle.sg for more information.
https://spiritscastle.sg/wp-content/uploads/2021/04/Distillerie_Ben_Nevis.jpeg
599
800
Zerlina Zhuang
https://spiritscastle.sg/wp-content/uploads/2018/07/spirits_castle_header_logo_2-300x138.png
Zerlina Zhuang
2021-04-23 15:28:12
2021-04-23 15:28:15
Ben Nevis – Distillery Deep Dive