Our clients and readers are excited to find out more about Dram Mor Group and the people behind the brand ever since Kenny Macdonald came on Zoom for a tasting of their Autumn Release. The bottles are absolutely fabulous but then, so is Kenny! We decided to share a wee bit more about Dram Mor Group beyond the bottlings.
The Beginnings of Dram Mor Group
The owners of Dram Mor Group are husband and wife team, Kenny and Viktorija Macdonald. Passionate about whiskies, they work in the whisky industry for many years. In 2013, they decided to take the plunge to start their own company. Initially, the company operates as an export agent for the various Scottish distilleries. The dynamic duo then started investing in whisky casks in 2018, purely for themselves. However, as they began to amass more than just a few whisky casks, Kenny thought it was time to take a step further as an independent bottler! Hence, Dram Mor Group was born. In 2019, Dram Mor started bottling their first series of whisky casks with the advice of Jim McEwan, the whisky legend.
Alas, Covid-19 struck the world in early 2020, pushing back the timeline that Kenny and Viktorija had first set out. Nonetheless, Viktorija worked hard in securing most of her distributors in Europe and also reached out to Spirits Castle in Singapore! It was the start of an exciting journey for all of us!
How It All Started for Dram Mor Group x Spirits Castle
To be honest, we thought that it was really fate that brought us together. When Viktorija first reached out to us, she actually knew us as WhiskyGeeks. She was hoping that we would do an article for Dram Mor Group so that we would attract a distributor! So when we explored the idea of Spirits Castle taking on the distributorship, we both got excited for what it meant for us. It was just the right timing because Spirits Castle was looking for a Scottish independent brand to represent, and Dram Mor Group showed up! It did not take long for us to work out a contract and start our collaboration.
Sadly, Covid-19 took away our chances of shipping in Dram Mor's inaugural release. We were all ready to ship when the lockdowns happened. All work stopped. After several months of trying to get things shipped, we decided to let go of the inaugural release and wait for the second one. Thankfully, we still managed to get ONE of the inaugural expressions and that is the Caol Ila 2013 6 Years Old! We are so proud that it scored a stunning 89 points on WhiskyFun!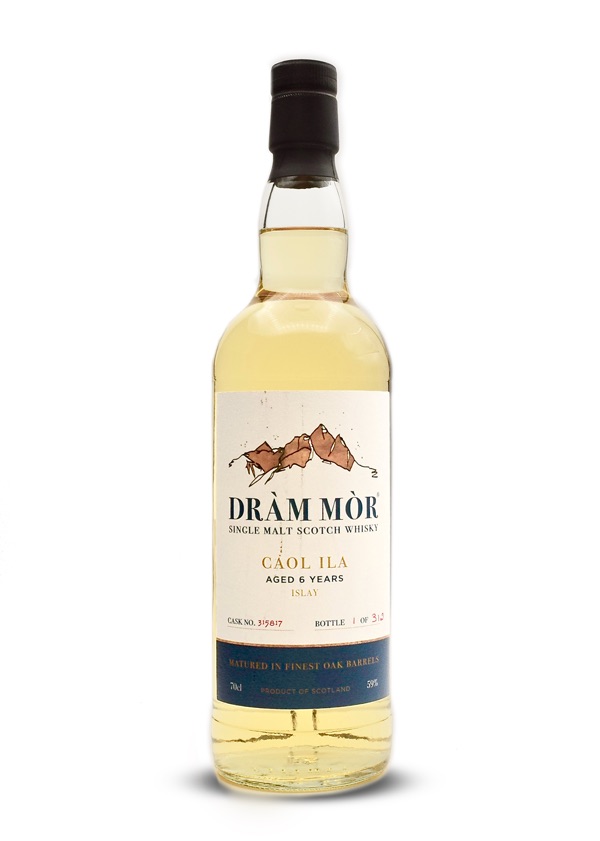 The Many Perils of Shipping
Our first shipment of Dram Mor's Autumn Releases was in September 2020. Again, the timeline was pushed backwards due to Covid-19. Even the shipment process became a nightmare for all of us. For two whole weeks, Viktorija and I were so flustered with the various shipping nightmares that we practically talked to each other before we sleep and when we awake! The problems were various, from a non-pick up at the warehouse to the multiple times that we had to redo our import permit. Just thinking about it now gives me goosebumps!
Nonetheless, the nightmare ironically bought the two companies closer, and with it, started a beautiful journey of fantastic whiskies and whisky casks ownership!

More Than Just an Independent Bottler
If you think that Dram Mor is just yet another independent bottler, then you have misunderstood them. Besides bottling single cask whiskies under their brand, Dram Mor Group is also a whisky cask broker, working exclusively with Scotch whiskies. Spirits Castle, of course, becomes their exclusive agent in Singapore and South East Asia for whisky cask brokerage too!
Dram Mor Group offers not only the chance for our clients to own whisky casks but also services such as re-racking (transferring whisky from one cask to another). Re-racking assures cask owners of good outcomes for their whisky. They are also highly connected around the world, making it easy for cask owners to sell their casks. To make things even sweeter, Jim McEwan gives advice to Kenny and Viktorija on the side! So any cask owners who have casks with us will know that they have many experts to discuss details with. 🙂
It's Just A Beginning
Yes, it's just a beginning! We look forward to bringing you more of Dram Mor's delicious single cask, single malts whiskies to Singapore and South East Asia! Their next release is again held up by Covid-19, unfortunately. Nonetheless, rest assured that we will do our best to expedite the shipment once ready! In the meanwhile, please stay tuned for our next adventure with Dram Mor Group!
https://spiritscastle.sg/wp-content/uploads/2020/11/Cask2.jpg
600
600
Zerlina Zhuang
https://spiritscastle.sg/wp-content/uploads/2018/07/spirits_castle_header_logo_2-300x138.png
Zerlina Zhuang
2020-12-01 15:15:48
2020-12-01 15:15:51
Dram Mor Group – Indie Whisky Bottler & Whisky Cask Broker